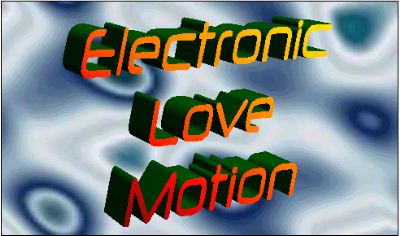 Medical Records Home | Free Thought Association | Links | Contact Medical Records
Sign Guestbook | View Guestbook
---
Electronic Love Motion is an ambient electronic music project that has been in existence since 1996. Sequenced drums and synthesizers are combined with samples, melodic guitar and keyboard lines creating a hallucinogenic mood. Influences include groups like Kraftwerk, Psychick TV, Orbital, The Future Sound of London, and Meat Beat Manifesto. Songs are available for download in mp3 format. These can be heard with Winamp or another mp3 player. New songs are constantly being released at mp3.com so check back often. If you would like to recieve email notification of new releases, email bliss23@netscape.net.
News
December 23, 1999
Work has begun on Electronic Love Motion's 2nd album release. The working title is "Superior to Humans." Two songs are currently available on mp3.com and several more should follow in the coming weeks.
July 15, 1999
Electronic Love Motion has released it's debut EP! It is available as a DAM (Digital Automatic Music) CD at mp3.com. Several songs from the CD are available for free download for a limited time. The self-titled CD contains 6 songs and is approximately 30 minutes in length. This multiformat CD contains regular audio CD tracks that can be played in any CD player as well as mp3 tracks. It is available from Electronic Love Motion's website at mp3.com for $5.99. Buy it!
Songs
Offering
(4:59) This is a mellow, laid back electronica song. Drums are quite bass-heavy. A cool analog bassline is overlaid by ambient keyboards. An interesting thing about this song is that aside from the drum track, no computers, sequencers, or arpeggiators were used.
Resonance 23
(5:59) This song was the first song ever released to the public by Electronic Love Motion. It has 70's-style, psychedelic keyboards with a melodic guitar line. Raw42 described it as "a resonating bass pulse. nicely mixed in is an electric guitar solo of slow moving grace. these sounds are backed up by a beat composed entirely of bongos and congas and a subtle pad with plenty of portamento ." The entire review is available by clicking here.
I Want Your Body
(3:19) Heavily gated drums with a kind of retro synth sequence that is perhaps remeniscent of Kraftwerk. The sample is from a coworker who tried to play a joke on Bliss while working as a transcriptionist.
Celophane Typewriters
(3:50) Slow, psychedelic ambient groove. The high fidelity version contains bits of stereo ear-candy.
Emergency Broadcast
(7:38) Echo-rich keyboards with a dark guitar melody. This is one of the earliest tracks by Electronic Love Motion, dating back to 1996.
Paradise
(5:44) Heavy beat with ethereal, moody keyboards. " . . . surely no man has ever attained such happiness." Note: This track is currently only available on DAM CD.



Download them all for free for a limited time at mp3.com.



Click the banners below to find more electronic artists.

Sign Guestbook | View Guestbook
Home | Free Thought Association | Links | Contact Medical Records
---

Last updated December 23, 1999
(c) 1999 Medical Records